Welcome to Navdeep Hair Transplant & Laser Clinic. Best low cost FUE Hair transplant clinic. Our doctors have years of experience. We offer hair transplants to those who are balding up.
Dr Navdeep Goyal completed his MBBS, 1996 batch from Kasturba Medical College, Mangalore, Karnataka. Navdeep Hospital, is a leading hair loss treatment provider with FUE Hair transplantation technique. Navdeep hospital was established in 2008.
In our hospital hair transplant is done by doctors (not technitions). We follow international Protocols with designing according to patients own choice. With dedicated doctors we provide excellence at most affordable price. Patients have advantage of benefiting from direct consultation with doctors. Then make a choice based on merits of technique rather than its price. For references you can see actual videos of patients or Before after result photos of FUE hair transplant done by us. We make every possible effort to keep the trust you put into our services.
Cost of FUE Hair transplant
Hair Transplant Surgery cost Rs. 25,000 – Rs 100,000 Approximately.
 Whatsapp Your Bald Images for Free Hair Consultation: +91-9416500112 
FUE Hair transplant is offered at cheapest rates done by doctors at best quality. You can come in morning and go back in same day evening. It is the only natural and permanent solution for baldness. Although results vary from person to person, mostly you can expect good result in 6-7 months with final at 18-24 months.
FUE Hair transplant is a procedure of redistribution of scalp hair. In this procedure, follicular units or grafts are taken from the donor area and implanted on the bald area to cover these areas. Follicular unit extraction (FUE) is one of two primary methods of obtaining follicular units, naturally occurring groups of one to four hairs, for hair transplantation. In FUE harvesting, individual follicular units are extracted directly from the hair restoration patient's donor area, ideally one at a time. This differs from strip-harvesting because, in strip harvesting, a strip of skin is removed from the patient and then dissected into many individual follicular units. We have stopped doing strip method now due to its disadvantages of sutures and scar. There is no linear cut, no stitch in FUE hair transplant. Hairs grow naturally.
Steps / Instructions Before FUE Hair Transplant
First of all send your front, top and back photos on Whatsapp at

+91-9416500112

or via email at navdeep13878@gmail.com.
Cost estimate will be given. Charges are according to area to be covered.
Then you will be booking your appointment for Transplant by depositing 2000 Rs on our bank account.
You will be coming in the morning and going back in the evening on same day.
Check FAQ's section for more Answers to common questions.
If still you have any query you can call between 10.00 AM to 4.00 PM

WhatsApp +91-9416500112 your images for free Consultation from Doctors

Unhappy with shaving, tweezing, or waxing to remove unwanted hair!! Laser hair removal may be an option worth considering. Enjoy the pain free laser. Latest DIODE LASER for hair reduction. Less number of sittings required with DIODE LASER as compared with IPL LASER. Resulting in low total cost.
Due to the ongoing circumstances caused by COVID-19, we are encouraging Telemedicine as announced by our Prime Minister Shri Narender Modi. Patients are having photo reviews, or meeting with Dr. Navdeep Goyal by WhatsApp. Hair transplants will resume as soon as COVID-19 (Corona virus) pandemic lockdown ends or as announced by Authorities. 
CME ( Continuing medical education) Attended.
HAIRCON 2020: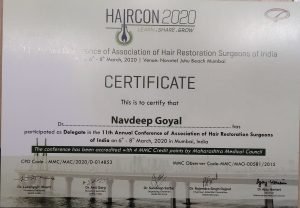 HAIRCON 2017:
Attended the prestigious HAIRCON 2017 conference held at Hotel Raddison Blu, Ludhiana, Punjab, India. Organized by Association of Hair Restoration Surgeons (AHRS), India.
Aesthetics 2016:
Attended the prestigious Aesthetics 2016 conference (CME) held in Indian Habitat Center, New Delhi.
Haircon 2018:
Aesthetics 2018: